Before placing your bets at an online betting site, always do your research about odds, sportsbooks and point spreads. Of course, all those terms can be learned quickly and what looks complex at first quickly becomes less daunting as you learn more.  The more information you have, the more money you will win from betting!
First of all you need to find a sportsbook. There are many options out there and the sports betting lines may be different at some sites. It is always in your best interest to check the lines at multiple sportsbook so you may get an advantage with a line in your favor. Look for a betting site that offers the games you are interested in. Not all sportsbooks accept players worldwide. Deposit bonuses, rebates, and promotions are great ways to build up your bankroll without depositing too much cash up front.
Top Sports Betting Sites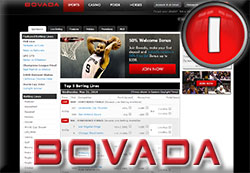 Bonus: $250
$250 Bonus is easier than other sportsbooks
Fast Payouts <— Most Important!
Great mobile site with in-game "live" betting
Bovada is a sportsbook from the legendary Calvin Ayre (Bodog founder) and was developed for US and Canadian bettors.  The name is thought to be a mix of BOdog and neVADA!  Bovada bases their site on ease of use. They know that online sports betting should be simple and easy to use, and they do that extremely well.
Cashing out at Bovada is incredibly easy in a time when most sites are making it tougher and tougher. From what's been said and what we've seen about Bovada, one of the best parts about them is their payout speed: depositing is easy and payouts are extremely fast; which is great for US customers.
Current Bovada Ranking: 4.7
---
Betonline
Bonus: $2,500
50% Bonus on First Deposit!
$25 Free to try Live Betting
$50 Free Bet on your First Mobile Bet
BetOnline is the King when it comes to servicing the average sports bettor. This is a good site for low to mid sized bets, but you need to watch the deposit fees on credit cards. BetOnline gives players $50 in discounts for withdrawal fees – every 30 days. You must request this discount with your payout, so essentially you'll get a free payout. Lately Bet Online has become a good book for props and future bets. The Bonus for life is good also – up to a 25% Bonus ($1,000 max) on EVERY deposit.
Current Betonline Ranking: 4.5
---
Bookmaker
Bonus: $2,500
Ranking: 4.3
20% Deposit Bonus Every Tuesday
Easy Live Betting
Rewards programs gives cash back
Bookmaker is one of the big boys. They take bets online up to $5,000 and up to $20,000 by phone (players can even request higher limits). One very cool thing about Bookmaker is that they give a 10% reload bonus to go with their 15% new account bonus. It was once said that Bookmaker takes $5,000 bets, the same way that most sites take $100 dollar bets.
Bookmaker.eu is well known as the site who typically is the first to post sports betting lines, you can even bet on the less popular sports like surfing, racing, cricket and even politics. Another thing that Bookmaker does well – mobile betting for iPhone, Android, and Blackberry. They make online sports betting easy to do, and also have some great options on their site for promotions.
Current Boookmaker.eu Ranking: 4.3
---
TopBet
Bonus: $250
Ranking: 3.1
50% Signing Bonus
10% Bonus all other Deposits
No deposit fees on credit cards
We never used TopBet until last year and I thought they were just ok, but since then they have just gotten better and better. I have been hearing nothing but positive experiences from friends and other bettors that deal with TopBet.eu. Very fast cash-outs and 1 free withdrawal ($300 or more) per calendar month makes them a solid online betting choice for your average betting. I'm definitely keeping my eye on Topbet and expect them to grow this year.
Current Topbet.eu Ranking: 4.3
---
Using Online Sportsbooks
When you're betting sports online, you need to make sure of 2 things: that you set your bankroll right, and also that you find the best site to use overall. Fortunately, there's quite a few sites out there that do online sports betting very well. And to be honest, there's a few to stay away from…but just like any good businessman would do; you don't talk down about the competition! Here's a few of the best US sports betting sites that we recommend:
Regardless of what you're looking for out of online sports betting, these top 4 sites will offer it to you. They have incredibly customer service and excellent site layouts, which is why they're definitely the highest rated and most recommended sports betting sites on the internet.
How to Bet Online
Once you've found a sports betting site that is safe and trustworthy you open and fund an account with them. Most of the serious online sports betting sites will offer a big variety of sports to bet on so you could try areas that are new to you. Most online sport betting starts by placing bets on the sports that they feel that they understand. If you follow the MLB Baseball games you have a good idea of strengths and weaknesses of different teams and can decide if it is worth to bet on.  Some bets will be adjustable with time so that you can add more money to your original bet or cut it in order to lose less money on a bad bet.  Read more on how to bet on sports.
Now that we are heading into summer with the the baseball season moving along. Before we know it, football season will be here!
Common Betting Terms
Straight wager – the team you select must be the winner
Point Spread wager – the team you select must win by more than, or lose by less than the selected point spread.
Over/Under – a total points wager that you bet both teams will score more than or less than at the conclusion of the contest.
Parlays – combining different wagers on different sports. All of your choices must win for a parlay to payout. Ties reduce that game and reduce the parlay to a single game.
Pleaser – A parlay that pays higher odds than the usual parlay because it move the total or point spread against your favor. If you pick a favorite to win that is favored by three points the pleaser would increase the favorite to win by six points and increase the payout by up to three times the normal.
Teasers – a combination bet were the point spread is adjusted in your favor. Payout for this is less than for a straight point spread wager.
Future Wagers – Done on sports, usually big events (Super Bowl, World Cup, World Series) that will take place at a future time.
SU – Straight Up
ATS – Against the Spread
What to Bet on
It is a good idea to bet on the games and sports that you like. Just because everyone is talking about the swimming Olympics you don't have to bet on them. Online sports betting should be fun so make sure to be truly interested in the sport you decide to bet on. When you decide to go into a new area it is usually thanks to smart marketing from the sport betting sites side. Through catchy information they invite bettors to try new sports. The charm of the Internet is that you do stand a chance even in new areas. Information about the sport and its participants is easily available and through a little bit of reading you could make as wise of bets as anyone else.  Now it is so easy to place a bet on a game being played out in a different country.
Easy Access to Games
One of the strengths of online sports betting is that it is so easily available. If you want to bet at a game that is just about to start you don't have to fret missing out on it due to traffic jams. By having an account with an online sport betting portal you could enter the bet a few minutes before the game starts. You could even take parts of bets that are open till the very final minutes of the game.  All is there for you in one place so you don't need to keep track of notes you made in different newspaper sport sections throughout the week.
Creative Betting and Betting Lines
It is common to find creative and special bets in sportsbooks. These sometimes leave the frame of sports and go into areas like politics or entertainment.  Some gambling sites like Bovada really specializes in listing some of these entertainment type bets.  You could bet on the outcome of different elections or on more diffuse areas like when the first people will live on the moon permanently.